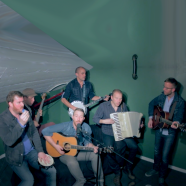 Mar

20
Tags
Related Posts
Share This
Bronze Radio Return
We love supporting hard-working musicians just like Bronze Radio Return. Most of the year you'll find this rootsie-pop group on the road touring across the states or in the studio working on new albums. This CT-based group is making great music that reaches a lot of new fans every day. We truly believe that nowadays they are one of the most promising bands out there.
I got introduced to the band about 4 years ago and ever since I saw them live for the first time, I knew I wanted to collaborate with them on a production. I was fortunate enough to capture their single 'Further On' off of their new album 'Up On & Over' when they came to Boston in Nov 2013.
Check their touring dates (they're probably on their way to your home town as we speak) and make sure to show some love HERE if you enjoy their music.
It's all about having the love go'round and supporting what moves you.
– Shaysh
Bronze Radio Return are –
Chris Henderson – Guitar/Vocals
Patrick Fetkowitz – Guitar
Matt Warner – Keys/Vocals
Rob Griffith – Drums/Vocals
Bob Tanen – Bass/Vocals
Craig Struble – Harmonica/Guitar/Banjo
This session was shot by –
Seth Wood & Eran Shaysh
Recorded by – Eran Shaysh
Mixed by – Daniel DP Perry
This song is an original song by Bronze Radio Return.
This video is an original production of Big Old Big One.